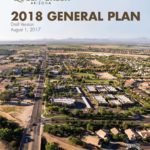 Town of Queen Creek 2018 General Plan Update
The Town of Queen Creek 2018 General Plan Update was adopted on September 20, 2017, and will be sent to the ballots on May 2018 for resident ratification of the plan. PLAN*et has worked with the town to help provide innovative use of social media and digital outlets to reach out for public participation in the community. To learn more visit planqc.com.
PLAN*et facilitated the public engagement process and created website content with its subconsultant to develop an interactive website that is the primary outreach portal for the General Plan update. The website was viewed by over 18,000 residents, and received over 500 online comments. The Town also has an extraordinary number of facebook users, and successfully uses other digital platforms to communicate with its citizens. During this update, the Town was also updating its Transportation Master Plan and Parks and Recreation Master Plan. Recognizing that Town residents rely on digital communications to learn about Town actions, and concerned that residents would likely experience "meeting fatigue," from another series  of meetings associated with updating the General Plan, the Town opted to conduct most of its outreach online.